Auto Industry Trends to Monitor in 2022
Less Is More?
With the start of NFL playoffs and our third accumulating snowfall in three weeks, we are once again reminded that the calendar has flipped over to a new year. No doubt if you watched any games from Super Wild Card weekend, you were also reminded that the auto manufacturers and beer producers are two industries that have become synonymous with advertising in the NFL. One such beer producer had a longtime advertising campaign where they debated whether their beer "tastes great" or is "less filling." While consumers continue to weigh that debate, that same beer producer ended some of their commercials with the line "everything you always wanted in a beer. And less."
That slogan could easily have described the state of the auto industry in 2021. Some industry experts have referred to it as "less is more," others as "the new abnormal." There is no debate that the auto industry faced numerous challenges but was able to adapt and turn in one of its most profitable years on record in 2021.
What trends can we expect to see in 2022 for the auto industry? What trends will we see "less" of? What trends will we see "more" of?
In this blog post, we examine some of these trends and offer some predictions for industry conditions in 2022.
Less: Incentives from the Manufacturer
Historically, OEMs have offered incentives to auto dealers on certain makes and models for stocking the companies' products and promoting sales. As the supply of new units was diminished since the onset of the pandemic due to plant shutdowns and then ultimately a shortage in microchips, the demand to buy the limited number of units outweighed supplies and incentives have diminished for most makes and models. The following chart from JD Power/LMC Automotive displays the average incentive spending per unit and the percentage of incentives to the average Manufacturers' Suggested Retail Price (MSRP) from December 2019 through December 2021.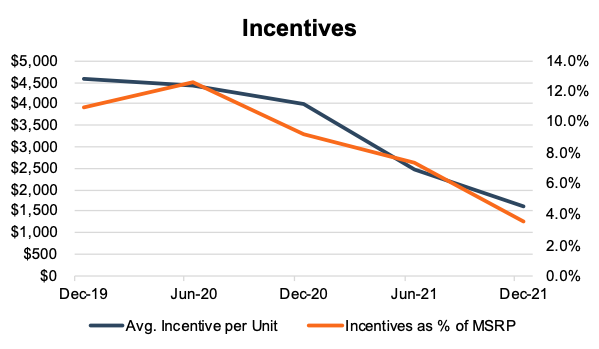 Specifically, average incentive spending per unit has declined by approximately $3,000 per unit from December 2019 to December 2021, representing a 65.3% decline. Incentives as a percentage of average MSRP has also declined from 11.0% to 3.5%.
With continued inventory supply challenges expected to persist for most of 2022, expect OEM/Dealer incentives to continue to be lower than historical levels. Quite simply, the demand for inventory will outpace supply in the continuing months.
More: SAAR/Total Retail Units Sold
As we reported in last week's blog, the December SAAR totaled just 12.44 million units. The total number of units retailed for the year has been estimated at 14,926,900. Volumes were negatively impacted by the same conditions that impacted manufacturer incentives – plant shutdowns, chip shortages, and supply chain issues. Despite the success achieved by auto dealers over the past two years, the total number of retail units sold has lagged behind the prior five-year average. Many analysts that cover the industry would estimate that demand for the annual SAAR should hover around 17 million units. In fact, the average SAAR for the period from 2015 through 2019 averaged 17.24 million units. As seen in the graph below, the decline in sales for the last two years has created a deficit of approximately 5.08 million units.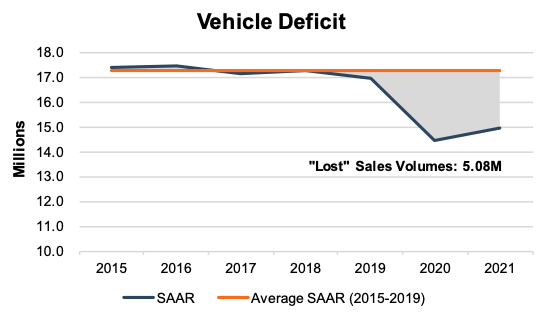 Some of this deficit may get offset or replaced by consumers that have either delayed their next purchase or shifted to purchasing a newer used vehicle rather than a new vehicle. With fewer vehicular miles driven, some of these retail volumes may be permanently "lost." In any event, there is pent-up demand from consumers due to the inventory shortages over the last two years. The market will need to absorb this pent-up demand as more inventory becomes available. Several industry experts have weighed in on their SAAR estimates for 2022:
Kevin Roberts – Car Gurus: 15-16 million
Jonathan Smoke – Cox Automotive: 16 million
Patrick Manzi – NADA: 15.4 million
SAAR will most certainly increase in 2022 out of necessity from demand from the prior two years. Full recovery to the 17 million unit historical levels will continue to be challenged by the inventory conditions from the OEMs. If the OEMs are able to produce more units in 2022, auto dealers will be able to increase the number of units sold from the prior two years.
Less: Number of Models Available
Given the challenging industry conditions, OEMs have been forced to prioritize which models they produce. Most OEMs have had a difficult time producing their full lineup of vehicles. Specifically, two segments that are among the hardest hit are the luxury market and cars (as opposed to crossovers and pickup trucks). In normal production years, luxury cars are more limited in supply than other brands, but those are being more impacted in 2021 and are being the hardest hit with seller markups. Cars and sedans are also seeing a reduction in the number of units produced. Consumer behavior, in addition to inventory shortages, is to blame for this phenomenon. According to a recent article in Newsweek, trucks and SUVs compromise nearly 81% of the total vehicles manufactured.
OEMs will continue to prioritize the production of models based upon:
units dealers are selling the most frequently
units for which necessary parts and microchips are available
units achieving the highest margins.
Like many industry experts, we anticipate the number of models from each OEM will continue to be limited in 2022.
Less: Features on Vehicles
As we all learned in 2021, many of the accessories and features on our vehicles are powered through microchips. The microchip shortage has caused production delays and shortages. Some analysts have estimated that the global microchip shortage has cost the auto industry millions of lost vehicles and billions in lost revenue in 2021. How long are conditions expected to persist?
Most automobiles can be built in 15 to 30 hours, while a microchip takes nearly five months to be produced.
Most auto manufacturer plants can operate two production shifts five days a week or a total of 10 shifts per week. In times of high production needs, auto manufacturers can increase the total number of shifts to 21 shifts per week. In contrast, semiconductor plants are expensive, slow to build, and more complex to operate. For example, most microchip plants operate 24 hours per day, 365 days per year, so there is no room to increase production in existing plants to make up for any shortfalls. Further, the life cycle of a microchip plant from breaking ground on the facility to the start of production can take up to five years, compared to the six-month lead time at an auto manufacturing plant. Most automobiles can be built in 15 to 30 hours, while a microchip takes nearly five months to be produced, packaged, and shipped to an OEM for installation on a vehicle.
So while companies such as Taiwan Semiconductor Manufacturing Company (TSMC) and others are making the investment to build new chip factories, it's going to take considerable time to meet current demands. TSMC began building a new factory in Arizona in June, and Samsung is planning a new chip plant in Texas.
Given supply constraints, OEMs can either produce fewer vehicles with the same number of features, the same number of vehicles with fewer features, or a combination of the two (smaller reduction of both vehicle volumes and features). As we saw in 2021 and anticipate into 2022, the auto industry will continue to suffer from the microchip shortage. Consumers will see the impact materialize in fewer accessories and features on the new vehicles produced in 2022.
Less: Number of Electric Vehicles (EVs) on the Market
In last week's blog, we also commented on the OEMs participation and activity in the electric pickup truck race. The activity isn't just limited to Ford, Chevrolet, and Tesla as newer manufacturers such as Lordstown Motors, Bollinger, and Atlis Motors are also entering the market.
The demand for battery-electric vehicles doubled during the first half of 2021.
While EVs only account for a fraction of the new vehicle sales in the United States, the demand for battery-electric vehicles doubled during the first half of 2021. Just last week, representatives from NADA, General Motors, and the United Auto Workers testified in a House hearing on the impact of EVs on rural communities. Many dealers indicate the desire and energy to participate in the direct sale of EVs once they are rolled out from production from the OEMs. Auto dealers wish for traditional state franchise laws to be upheld that govern the licensing and regulation of distribution and the sale and service of EVs. Specifically, auto dealers in rural or non-metropolitan areas want to make sure they are not excluded from participation due to a lack of technological innovations. Similar to other advancements such as electrification, broadband, and telephone service, rural area auto dealers want to ensure that they will be given the same priority and attention as their urban dealer counterparts.
Consumer behavior and preference may also play a key role in the increased number of EVs on the road. According to a 2022 State of the American Driver Report from Jerry, 47% of millennials are interested in buying an EV as their next vehicle. Gen Z and Gen X also show strong interest in EVs at 41% and 38%, respectively.
Conclusion
At Mercer Capital, we follow the auto industry closely in order to stay current with trends in the marketplace. These give insight into the market that may exist for a private dealership which informs our valuation and litigation support engagements. To understand how the above themes may or may not impact your business, contact a professional at Mercer Capital to discuss your needs in confidence.