Auto Industry Trends to Monitor in 2023
An Automotive Potpourri
January is a month to review statistics from the prior year and to make predictions for the new year.  The automobile industry is no different.  In this post, we tackle a potpourri of trends to monitor in 2023, including new and used vehicle prices, electric vehicles, connected cars, and SAAR predictions.
SAAR/Total Retail Units Sold
As we reported in an earlier post this month, the December SAAR totaled just 13.77 million units.  Likewise, the total number of units retailed for the year has been estimated at 13,687,000, a decline of over a million units from a year ago.  Volumes were negatively impacted by the same conditions that affected manufacturer incentives—chip shortages and supply chain issues.  Despite the success achieved by auto dealers over the past two and half years, the total number of retail units sold has lagged behind the prior five-year average before COVID.
Just as we wrote last year, some of the sales deficit may be offset or replaced by consumers who have either delayed their next purchase or shifted to purchasing a newer used vehicle rather than a new one.  In addition, demand in January 2023 is mitigated by inflation, rising interest rates, and fears of a recession that were not present a year ago.  Several industry experts have weighed in on their SAAR estimates for 2023:
Edmunds – 14.8 million
Cox Automotive – 14.1 million
NADA – 14.6 million
Toyota North America – 15 million
It should be noted that these estimates for 2023 are tempered from last year's estimates in the 15-16 million unit range.  Pricing trends will also impact new vehicle sales.
New Vehicle Pricing Trends
Mixed messages are coming from analysts regarding new vehicle pricing in 2023, with some (Edmunds) saying that pricing will cool while others still touting the highest average transaction prices month after month.  Can both be true, or the reality be somewhere in the middle?  First, let's examine the terminology.  The metric often referenced in new vehicle pricing is MSRP or the manufacturer's suggested retail price.  MSRP is a familiar metric, also known as the list price displayed on the window sticker, which also lists the vehicle's model year, trim package level, EPA ratings, factory-installed options, and other information.  The law does not require dealers to sell vehicles at MSRP or list prices.  In the evolving world of transparency and more accessible information, consumers have historically been able to negotiate prices below MSRP, along with incentives offered by the manufacturer.
While buyers have been able to negotiate successfully in the past, the roles have reversed in the last year and a half due to supply and demand conditions. But have they started to turn again?
The average transaction price for new vehicles is another reported metric that consists of the average actual price of all new vehicles purchased.  It reflects the actual negotiated price with the consumer without incorporating any incentives from the manufacturer.  According to Edmunds, the average transaction price for new vehicles hit a record high of $47,681 in November 2022.  However, this same month ended a sixteen-month streak where the average transaction price topped MSRP.  Both trends have continued in December 2022 and are expected to carry on in 2023.  As our December 2022 SAAR blog commented, incentive spending returned above $1,000 for vehicles for the first time in many months.
Through the middle of September 2022, these were the top 5 models selling over MSRP: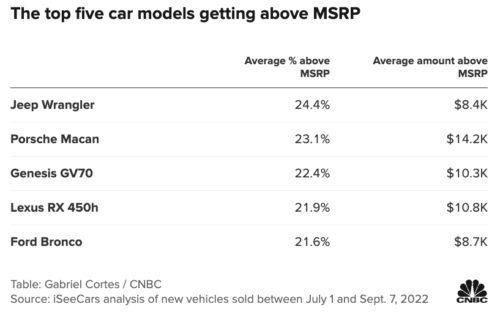 These pricing trends have reversed for new vehicles, as fewer vehicles were sold above MSRP in December 2022.  According to J.D. Power, only 37% of all new vehicles were sold above MSRP, down from 50% in July 2022.
Used Vehicle Pricing Trends
According to Edmunds, the average price of a used car purchase in December 2022 was $29,533, down nearly $1,600 from the record high previously reached in April 2022.  For several reasons, used vehicle purchases and prices are more adversely affected by rising interest rates than new vehicles.  First, the auto loan rates on used vehicles are typically higher than the auto loan rates on new vehicles.  Second, buyers of used vehicles typically have less income than buyers of new cars.  If the Federal Reserve raises interest rates again in 2023, it will impact the overall affordability of vehicles in the entire automobile industry, particularly used vehicles.  The strain caused by rising interest rates and higher car payments will also make leasing a less viable option for consumers.  Edmunds reported that lease penetration fell to 17.4% in November 2022, compared to 28.3% in November 2019.
Electric Vehicles (EVs)
EVs dominated headlines in 2022 and will continue to experience increased adoption in 2023 due to government mandates and consumer preferences and behaviors.  In addition to the sheer number of EV vehicles on the roads, several EV trends are worth monitoring.
EVs are becoming more attractive to historically luxury car owners.  According to data published by Edmunds, the percentage trade-in by luxury owners for three EV models (Ford Mustang Mach-E, Hyundai Ioniq 5, and Kia EV6) is much higher than the percentage trade-in for the non-EV model, as seen in the table below:

Perhaps this is a shift in the perception of luxury or the Tesla effect.  Instead of luxury being associated with historical brands and vehicle features, consumers view modifications in powertrain and in-vehicle technologies as synonymous with luxury.
In addition to their popularity and increased adoption, EVs attract higher prices than their respective brand counterparts.  As we previously discussed, overall new vehicle prices have spiked over the last year and a half before cooling slightly in the last two months of the year.  EV prices for the same three models above trended higher, and in some cases much higher, than the average transaction price of their respective brands:

Finally, data compiled by IHS Markit suggests that EVs may be attracting younger buyers.  Higher prices for EVs would generally suggest an older demographic.  However, the allure of change and the appeal of the environmental benefits have drawn in younger demographics.  Through the first nine months of 2022, 44.1% of all EV buyers were under the age of 45, compared to 35.5% of buyers from this age group for all new vehicles purchased.  In other words, younger consumers are purchasing more EVs, which could translate into more EV sales if those younger consumers permanently shift to EVs.
Connected Cars
Last year, we dedicated a blog to connected cars, including market size estimates.  According to data from Counterpoint, connected car penetration surpassed non-connected cars for the first time ever on a global scale in the second quarter of 2022.  The following table displays the global connected car market share of several manufacturers: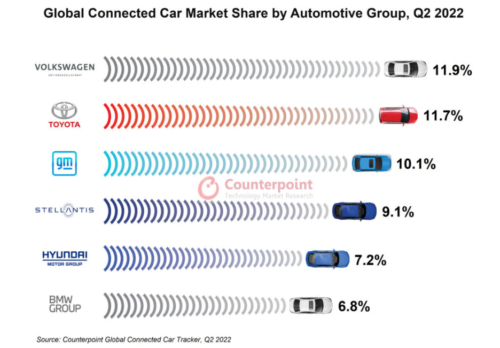 Despite these market penetration figures, there is still plenty of growth in the connected car space.  What other connected car trends will we expect to see in 2023?  While it will still be many years (if ever) before we see full level 5 self-autonomous features, there will continue to be improvements in advanced driver-assistance systems (ADAS).  Current features of ADAS consist of lidar, radar, and cameras that augment situational awareness.  The next evolution in ADAS will incorporate artificial intelligence to add more predictive and analytic insights.
Connected cars will continue to have more and larger screens in 2023 as they evolve to emulate smartphones on wheels.  Consumers will also see more subscription services offered as manufacturers and third-party vendors seek to monetize infotainment and other features.  Some manufacturers have even begun to package seat warmers and other add-ons into subscription services.  Upgrades and maintenance of these features will continue to be managed by over-the-air updates (OTAs).
Conclusion
2022 proved to be another year where the auto industry successfully navigated challenges and achieved high profitability.  2023 will present new threats to consumer demand with the economic conditions.  If prices and margins decline further than the last several months, the tide may have finally stemmed the record profits from the previous two and half years.
At Mercer Capital, we follow the auto industry closely to stay current with market trends.  These give insights into the private dealership market, informing our valuation and litigation support engagements.  To understand how the above themes may impact your business, contact a professional at Mercer Capital to discuss your needs in confidence.