The February SAAR was 14.9 million units, down 6.3% from last month but up 8.6% from February 2022. Year-over-year increases in the SAAR have been a theme throughout the last several months. In fact, February 2023 marks the seventh month in a row that the SAAR improved from the year prior. Looking ahead, we believe that it is likely that year-over-year improvements will continue for several more months as nationwide inventory balances continue to recover.
While consistent improvements in the SAAR indicate changing times, it is important to note that the unadjusted national sales pace has not completely bounced back to pre-pandemic levels. See the chart below for a visual comparison of unadjusted sales between the last eight Februarys.
Demand for Autos – Fleet Sales Continue to Lead the Way. Can Retail Customers Keep Spending?
While taking a closer look at the different components of total sales, fleet sales have taken center stage for the second month in a row. Thomas King, president of the data and analytics division at J.D. Power, remarked on February's total sales in the most recent LMC Automotive Forecast:
"Improving vehicle availability is allowing more retail and fleet customers who have been waiting on the sidelines to finally buy a new vehicle. February total sales growth is due primarily to increased sales to fleet customers […] as manufacturers increase production and make more vehicles available to this segment of the industry. Availability for retail customers is improving but remains extremely low, which is keeping prices and dealer profitability well above historic levels."
Like we discussed in last month's SAAR blog, the unwinding of pent-up demand seems to have finally arrived. As pent-up demand for fleet customers continues to be fulfilled over the next few months, we expect to gain clarity on the magnitude of pent-up demand from retail customers as well.
When thinking about retail customers, the most important question becomes, "is consumer spending healthy enough for retail demand to flesh itself out in 2023?" So far, the answer is yes. According to CNN Business, the Commerce Department's retail sales and consumer spending reports far surpassed expectations. During the first two months of 2023, it appeared that consumers weren't just resilient; they were resurgent.
Can this level of consumer spending persist? The Mercer Capital Auto Dealer Valuation team is skeptical. We are not sure consumers will continue overcoming macroeconomic headwinds like inflation and dwindling savings. Kayla Bruun, economic analyst at the decision intelligence company Morning Consult agrees:
"I think it's more likely that we'll see a return to some weaker data, some softer spending, some softer demand, because it's hard to see that resulting in a full turnaround, given how much savings have already been worn down and credit utilization has climbed up. It's not sustainable [for consumers] to keep spending above their means."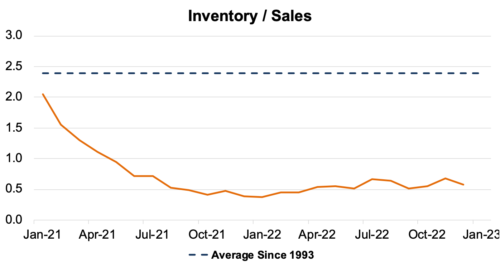 On the supply side of the equation, more vehicles are becoming available than we saw at this time last year. According to Ward's Intelligence, Q1 2023 North American light-vehicle production is expected to grow 7.3% compared to the first quarter of 2022. While keeping a finger on the pulse of the auto inventory landscape is undoubtedly a good idea, this should not surprise our regular blog readers. Supply chain recovery has been a recurring topic for the last six months, and we expect this recovery to continue to build steam.
Weaving the auto supply and demand narratives together, the industry's inventory to sales ratio remained depressed in February. This supports the idea that sales remain closely tied to production volumes and that pent-up demand is still present in the auto industry. Inventory to sales data is released on a trailing basis, so it is difficult to keep track of this relationship in real-time. However, we expect this ratio to be a reliable trailing indicator of when pent-up demand is beginning to disappear. Looking ahead, it remains to be seen when supply will surpass demand. Steady production increases may eventually outstrip demand, depending on the timing of the economic slowdown that economists have predicted for months.
Transaction Prices, Monthly Payments, and Incentive Spending
Transaction Prices – According to LMC Automotive, the average new-vehicle transaction price continues to rise, reaching a February record of $46,229 (a 4.8% increase from a year ago). This record-breaking average transaction price means consumers are on track to spend nearly $42 billion on new vehicles this month. Of course, not all of this is spent upfront.
Monthly Payments – According to NADA, the average monthly payment is expected to reach $722 in February, up $59 from last year. Along with record-high transaction prices, the average interest rate on auto loans is expected to be 6.8%, an increase of 252 basis points from last year. Assuming a loan with no down payment and no trade-in equity (positive or negative), this would equate to nearly a 4-month increase in the average loan term (all else equal). Holding prior year terms the same, the monthly payment would have risen 13.1% rather than the actual 8.9%.
Extending terms on auto loans is not a healthy long-term solution to vehicle affordability, but it looks like longer terms are being widely utilized to help consumers with affordability. With used vehicle prices moderating, trade-in equity is not anticipated to provide much support going forward.
Incentive Spending – According to J.D. Power, average incentive spending per unit is expected to total $1,335 this February, up 4.7% compared with a year ago. This marks the fourth month in a row that average incentive spending has increased.
March 2023 outlook
Mercer Capital's outlook for the March 2023 SAAR continues to be optimistic. Industry supply chain conditions are improving. However, sales volumes will likely continue to be closely tied to production volumes, although less so than a few months ago. Still, with pent-up demand for fleet sales, we don't anticipate profitability trends to moderate. Consumer activity may begin to cool off as affordability becomes an issue for many prospective buyers, but we'll have to see it to believe it.
Mercer Capital provides business valuation and financial advisory services, and our auto team helps dealers, their partners, and family members understand the value of their business. Contact a member of the Mercer Capital auto dealer team today to learn more about the value of your dealership.