Headwinds and Tailwinds for Auto Dealers
Your Flight Itinerary for 2021
If you've ever been on a flight, you know that the pilot and plane itself can only do so much in determining how quickly you get to your destination. A key factor is which way the wind is blowing. If the pilot announces that there are headwinds, you can expect your flight time to be on the longer side. The opposite is true with tailwinds, and you can expect to arrive at your destination more quickly under these circumstances.
Similarly for auto dealers, sometimes it doesn't matter what the dealership's management is like or how good the dealership itself is, as certain headwinds and tailwinds can make it harder or easier to achieve its goals. Below, we have considered some headwinds and tailwinds heading into 2021.
Headwinds for Auto Dealers
Regulations in the Industry
As we mentioned in the blog post which looked into how each presidential candidate's policies would impact the auto industry, the end of the Trump administration most likely points to an end in regulatory rollbacks in the industry.
In 2012, the Environmental Protection Agency and the National Highway Traffic Safety Administration issued regulations that would increase average fleet-wide fuel economy standards to 54.5 miles per gallon by 2025. Though President Trump had pushed back on the regulations, the Biden administration has indicated that they are in favor of these regulations and fuel economy and emission standards set by the Obama administration. Although the administration change could prove beneficial to EV manufacturers, especially in terms of Biden's plan for providing further government assistance for these companies, an increase in regulations could make cars more expensive, which are already historically expensive.
Though higher prices due to inventory shortages during the pandemic have helped margins for dealers, further increases in vehicle prices could dissuade consumers from purchasing vehicles. Dealers will have to hope they are able to continue to pass such costs along to consumers, which may prove more difficult with the proliferation of internet shopping, which brings us to our next headwind for traditional franchised dealers.
Consumer Confidence Index
When consumers are more confident, they are more willing to make large purchases (i.e. vehicles). This makes it an important indicator for determining headwinds and tailwinds for auto dealers. Unfortunately, between the COVID-19 pandemic, unemployment rate jumps, and uncertainties regarding the election, there was a decline in the Consumer Sentiment Index, as seen in the graph below.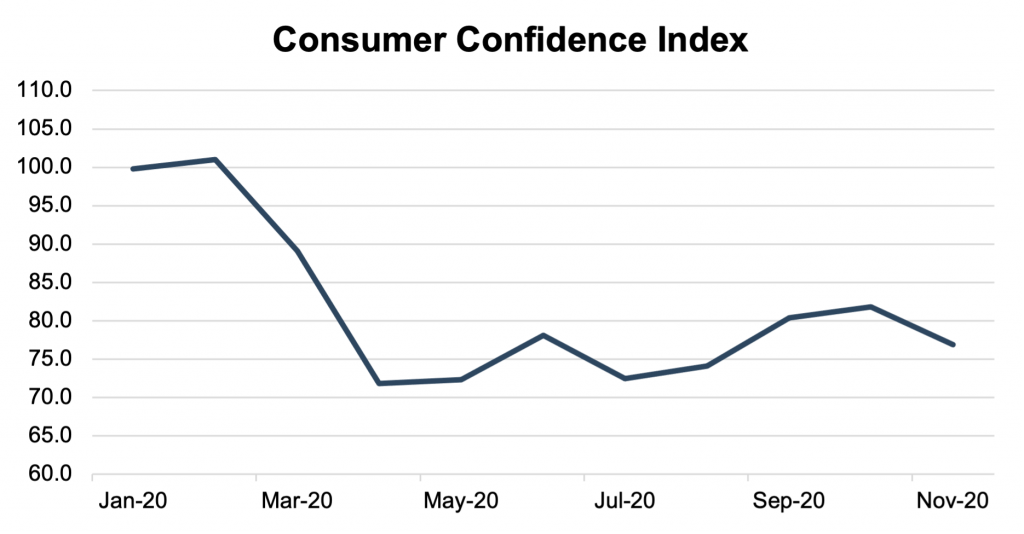 As the pandemic rages on and unemployment rates remain high, it's tough to tell when consumer confidence will return to pre-COVID levels. However, the Biden administration's plan for a $1.9 trillion stimulus bill could have a positive impact if it is passed.
Internet-Based Sales
Internet-based sales for vehicles have had their moment in 2020 with the COVID-19 pandemic. Most notably in this industry was the Vroom IPO, whose success has shown investors are confident that internet-based sales for vehicles will be a larger part of the industry going forward. However, internet-based sales strategies can increase revenue at the detriment of margins as increased price transparency further decreases gross margins, posing a potential headwind for the industry going forward. Vroom and others have been able to undercut prices with significant inflows of capital. However, Vroom's stock price is down a bit over 40% from August highs. If investors sour on the viability of the online used car sellers, this headwind could turn into a tailwind for traditional franchised dealers.
Tailwinds for Auto Dealers
Average Age of Vehicle Fleet
A study from IHS Markit found that the average age of vehicles on the road rose to 11.9 years this year, one month older than in 2019. This increase can be partially attributed to declines in new vehicle purchases as a result of the pandemic. Furthermore, vehicles, in general, are lasting longer and increases in prices have dissuaded some consumers from purchasing new vehicles.
While new vehicles made up 6.1% of vehicles on the road last year, IHS Markit predicts the final data for 2020 will be closer to 5%. This increase in the overall vehicle age represents pent-up demand for new vehicles. To the extent the pandemic has persuaded would-be buyers on the margin to forego purchases, increasing vehicle age portends greater demand for parts and service operations, which is a positive tailwind for the industry.
Inventory
As we mentioned in our New Year's Resolutions blog post, inventory is the name of the game in 2021 as production has ramped back up, and many of the public dealerships anticipate their inventory levels to fully recover. Because of the inventory shortages caused by manufacturing shutdowns in 2020, many shoppers who were looking for specific models, especially trucks, might not have been able to find what they were looking for. With inventory recovery on the horizon, many dealerships are hopeful this will no longer be a problem. The stabilization of inventory levels presents arguably one of the largest tailwinds for the industry going into 2021. However, it is important to note that a computer chip shortage that has been garnering attention at the beginning of this year poses a threat to this inventory resurgence.
Interest Rates
With interest rates near zero and the Federal Reserve chairman Jerome Powell indicating that will continue for the near future, auto dealers stand to gain.  Lower interest rates make cars and trucks more affordable for consumers financing these large purchases. If interest rates stay low as they are expected to, most consumers will be able to finance vehicles at affordable rates. This should help to offset our headwind above with rising prices.
Public Transportation Sentiment
While the COVID-19 pandemic has been devastating for public transportation, auto dealers may be able to gain a new customer base or expand their current one as a result. With Americans relying further on personal vehicles to avoid being in public areas, cars have become more important than ever to many Americans trying to limit exposure as much as possible. Furthermore, with more companies bringing their employees back into the office, this could have a positive impact on car sales as well.
The graphs below show both public transit unlinked trips and vehicle miles traveled. While vehicle miles traveled has almost recovered from pre-pandemic levels and are down only 9% in October 2020 compared to October 2019, public transit ridership has fared much worse, down 62% in the same time period. This decline in consumer sentiment for public transit presents a positive tailwind for the industry.
Conclusion
We hope that this post is helpful; however, as 2020 made painfully clear, these are only predictions based on current trends. It's impossible to know exactly what lies ahead. For now, we can all just hope that the ride won't be as bumpy as 2020 was.
If you're interested in how these trends may affect your dealership or would like to discuss a valuation issue in confidence, feel free to reach out to Mercer Capital's Auto Dealer team.