July 2022 SAAR
CHIPS-Plus Act Passes: What Does That Mean for Auto Dealers?
The July 2022 SAAR was 13.3 million units, an improvement from last month's 13.0 million units but down 10.2% from July 2021's rate of 14.7 million units. The SAAR continues to reflect depressed sales rates as supply chain shortages restrict volumes across the United States. The first half of 2022's average SAAR was 13.8 million units, and the beginning of the third quarter has already come in below that figure, further dragging down the full-year 2022 average SAAR. It seems unlikely that the full year SAAR will manage to reach 15 million units absent an unforeseen dramatic reversal.
In last week's blog post, the Mercer Capital Auto team discussed industry-wide and Mercer-specific 2022 predictions and laid out revised expectations for the remainder of 2022. In the interest of our regular subscribers, we will not lay those points out for two weeks in a row. See below for some of our regular SAAR blog charts comparing sales and inventory metrics over the last several years: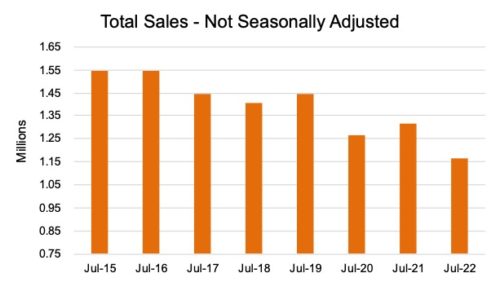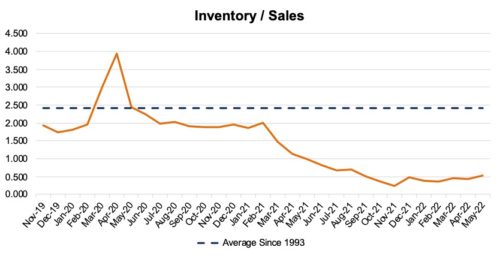 "CHIPS-Plus" Passes – What Does That Mean For Auto Dealers?
Several of our posts over the last year have covered the persistent semiconductor shortage in automotive manufacturing. This particular shortage, among other parts' shortages, has been a significant drag on production for over a year now. As far as forward expectations go, most folks that follow the industry have assumed that it would take multiple years for domestic chip-making operations to be able to handle the volume needed to make a dent in chip pricing and availability over the long term. This assumption seems reasonable to us, and not much has happened over the past six months that could change that narrative until this past week.
The House of Representatives and the Senate just passed a $280 billion "CHIPS-Plus" (Creating Helpful Incentives to Produce Semiconductors for America) bill in a bi-partisan vote on July 28th, sending the measure to President Biden's desk to be signed into law on August 3rd. This bill raises several questions throughout the auto industry: How will this bill affect the consensus timeline for domestic chip-making facilities to come online? Will the bill subsidize chip-making in a way that will take pressure off pricing? Is there an auto-specific clause in the bill, and if so, what does it lay out? In this post, we try to answer some of these questions and lay out the bill's general structure and contents.
Key Facts
A recent Forbes article highlights some key facts related to the CHIPS-Plus bill:
The bill passed 243 to 187, with 24 Republicans voting alongside 219 House Democrats, one day after the Senate passed it in a similarly bi-partisan 64-33 vote.
The bill highlights $52.7 billion in subsidies for U.S. computer chip manufacturing, $39 billion in assistance to build semiconductor facilities, $11 billion to support Research and Development, $2 billion for defense-related chip manufacturing, and $1.5 billion for public wireless supply chain innovation.
The bill creates a 25% tax credit for semiconductor manufacturing. The bill also appropriates $10 billion for the Department of Commerce to create 20 regional technology hubs.
Political supporters of the bill have touted the measure as a way of easing the microchip shortage by helping the United States catch up with East Asia, which currently produces 75% of the world's microchips. Many of these supporters have said that the bill is critical to national security and the United States' economy, especially given the fact that its key economic rival, China, has rapidly increased its market share in recent years.
Wall Street is likely to welcome the support as well. According to a recent Bloomberg article, the Philadelphia Stock Exchange Semiconductor Index has fallen 30% over the past year leading up to the bill's passing, marking the index's worst annual performance since 2008. All 30 stocks in the index were down for 2022 prior to the bill's passing. This decline in semiconductor companies' stock prices can be attributed to rising interest rates and is a part of a larger trend in the equities market (the year-to-date S&P 500's performance was -12.11% as of the writing of this blog).
It is great for business owners when the capital markets and the United States legislative bodies come to an agreement on any one thing, so this seems like a win for everyone involved, especially auto dealers and manufacturers. See below for some commentary on how this bill is expected to affect the auto industry.
How Does CHIPS-Plus Affect Auto Dealers?
While this bill is designed to support domestic chip-making for a large swathe of industries, it is clear that auto manufacturers' pain is among the most severe. According to a recent Automotive News Article, The American Automotive Policy Council released a statement in late July, saying that "There is not a single supply-chain shortage with a greater impact on the U.S. economy than the shortage of automotive-grade semiconductors."
Lobbyists and spokespeople for the industry have echoed this sentiment, making it very clear that automotive companies are looking for support to come sooner rather than later, as the process of building a semiconductor fabrication plant can take anywhere from 2-3 years and many of the United States' prospective facilities have been underway for some time now. Senator Gary Peters, a representative from Michigan, has been very outspoken in his support for the CHIPS-Plus bill, saying that "This problem only gets bigger as time goes on. […] The demand for chips is increasing every single year, dramatically. We have to get in front of this problem. […] We have to start building these facilities now."
This legislative development is clearly a big win for the auto industry. But how so? What specific positive impact might this bill have? Below, we try and answer some of the questions raised earlier in this blog:
So does CHIPS-Plus mean that facilities will come online sooner? The short answer is that it is unlikely. While this legislation might help subsidize these facilities and encourage more facility construction to begin, more subsidies cannot speed up the construction process in a meaningful way. The target for many of the domestic chip-making facilities to come online is still mid-2023. The subsidy is more likely to increase the number of facilities rather than the rate at which they appear.
Will the bill subsidize chip-making in a way that will take pressure off pricing? Perhaps. In general, government subsidies are designed to either 1.) encourage an economic activity that might otherwise not occur or 2.) take pressure off of the consumer by artificially lowering the costs of the producer. In the first scenario, legislators might believe that the total economy-wide benefits of chip-making will create positive externalities, or side effects, in the economy, making the subsidy worth taxpayers' money. In the second scenario, producers receive subsidies and can lower prices due to costs being artificially lower, encouraging the purchase of chips through bargain pricing. In our opinion, the first scenario makes more sense in this case, as the demand for microchips is already very healthy. Hopefully, the externalities that come from this bill will carry positive side effects with it, especially for auto dealers.
Is there an auto-specific clause in the bill, and if so, what does it lay out? Yes and No. There is not an auto section of this bill, but the auto industry is mentioned two times in the text of the actual bill:
Auto manufacturing is mentioned in Section 102 of the bill, referring to the $2 billion incentive program aimed at legacy chip production facilities. This money is intended to support existing facilities in "key industries" as they try and meet demand in the meantime while new facilities come online.
Auto manufacturing is also mentioned in Section 103 of the bill, clarifying and amending 2021 legislation to fall in line with Section 102 mentioned above.
These sections are aimed at a short-term fix to a long-term issue, with the long-term fix being the new facilities mentioned throughout this blog and throughout the legislation. Going forward, hopefully, this government funding can create some breathing room for manufacturers and dealers in the short term while also addressing the long-term solution.
August 2022 Outlook
Mercer Capital's outlook for the August 2022 SAAR is consistent with the status quo. Industry supply chain conditions continue to stagnate. Sales volumes will likely continue to be closely tied to production volumes as vehicles leave lots within days of arriving. Consumers have largely become conditioned to these higher prices, yet demand remains high due to relatively poor substitutes for personal vehicles, among other factors of course. Elevated profitability across the entire industry will likely continue as high prices boost margins on vehicle sales. Perhaps August's SAAR can eclipse 14 million units and signal a turning of the tide, but we predict that a 14 million unit SAAR for 2022 is an optimistic assumption in the current landscape.
Mercer Capital provides business valuation and financial advisory services, and our auto team helps dealers, their partners, and family members understand the value of their business. Contact a member of the Mercer Capital auto dealer team today to learn more about the value of your dealership.