After three straight months of impressive gains, the SAAR fell 9.6% in May from 18.8 million units to 17.0 million units.  The summer is typically a strong season for auto sales, but several supply-side factors have limited the availability of vehicles over the last month.
May 2020 SAAR (12.1 million units) is a poor comparison to this year's rate, as the pandemic's impact was still sending shock waves through the industry at that time.  In comparison to May 2019, SAAR is down roughly 2%.
The dip in SAAR from April highs should not be viewed in a totally negative light, as many industry experts have spoken to the adaptability and resilience of the industry during a period of record high demand and increasingly less inventory.  As seen in the graph below, the inventory to sales ratio has hit record lows as dealers cannot keep inventory on the lots.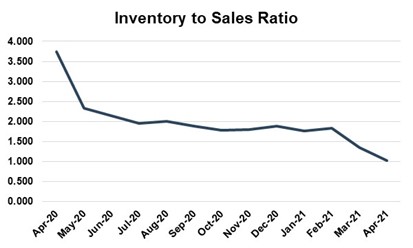 As noted in JD Power's Automotive Forecast for May, the average number of days a new vehicle sits on a dealer lot before being sold is on pace to fall to 47 days, down from 95 a year ago. Dealers are also selling a larger portion of vehicles as soon as they arrive in inventory, with 33.4% of vehicles being sold within 10 days of arrival, which is up from 18.2% in May of 2019.  Rising vehicle prices continue to reflect this supply and demand imbalance and benefit retailer profits.  As reported by JD Power, total aggregate retailer profits from new vehicle sales will be $4.5 billion, the highest ever for the month of May, and up 162% from May 2019.
Fleet customers are continuing to suffer as OEMs prioritize deliveries to retail customers over fleet customers.  NADA reported that fleet deliveries accounted for just 10% of new-vehicle sales in May, after averaging 16% the first four months of the year.  Notably, this was already depressed in 2021 as pre-pandemic levels were closer to 20% of monthly sales.  As we noted in our April SAAR, rental cars will continue to be hard to come by.  These high prices on rental cars and limited selection will most likely continue until the chip shortage has been straightened out and supply has stabilized.
Consumer Reactions
Consumers are having to get creative in order to secure a vehicle.  As we mentioned on our April SAAR blog post, manufacturers are hoping that consumers will be flexible and purchase models with less features to save on chips.
Consumers seem to be going the extra mile however, with Cars.com finding that nearly 1 in 3 recent buyers drove 100 miles or more to secure the car they want.  Kelsey Mays, Cars.com assistance managing editor, noted "With the current auto inventory challenges, recent car buyers are going to great lengths to find the car they want…I don't anticipate this trend slowing down, either. Of consumers currently in the market and shopping for a car, 65% said they would consider purchasing in another state."
While the extra mileage to find car options presents a clear inconvenience for consumers, they may reap some benefits as well. Over half (53%) of those looking for a new car also plan to trade in their current vehicle to the dealerships.  As the inventory shortage has limited the availability of cars on lots, the dealerships are often willing to pay a premium for new inventory. The extent to which consumers are willing to travel to find a car sheds further light on the current supply and demand incongruencies.
Government Reactions
The chip shortage has reached such an extent that the U.S. government is trying to assist. According to Automotive News, the Senate has passed an expansive bill to invest nearly $250 billion in bolstering U.S. manufacturing and technology to meet the economic and strategic challenge from China.  More specifically for auto dealers, the bill includes $52 billion in emergency outlays to help domestic manufacturers of semiconductors expand production, which was a bipartisan addition sought by Republican Senators John Cornyn (Texas) and Tom Cotton (Arkansas) and Democrats Mark Kelly (Arizona) and Mark Warner (Virginia).  The addition of the semiconductor expansion was cheered by those in the industry who have been struggling to meet demand for months.  Though the bill would be welcomed with open arms by the auto dealer industry, its fate is still uncertain as support in the House of Representatives is somewhat unknown.  However, Senate Majority Leader Schumer has indicated that he believes the House will be able to get something passed through to President Joe Biden's desk.
When It Will End?
With 93% of respondents to a survey conducted by Automotive News about the global chip shortage finding that they believe the chip shortage will have a severe impact on the auto industry, the question on everyone's mind is when is the end date.
While 72% of respondents believe that it will last the rest of the year, Goldman Sachs chief Asia economist Andrew Tilton believes the worst may be over. He has noted that there has been "noticeable tightening" of supply chains and shipment delays in North Asia, which will ultimately have an impact on downstream sectors such as auto production. He and his team believe the chip shortage could improve in the second half of 2021. However, this is a continuously evolving situation as multiple aspects of the supply chain are being disrupted, most recently in Taiwan. Chip manufacturing plants use large amounts of water, and Taiwan, home of the world's largest contract chipmaker, is facing its worst water shortage in 56 years. This, as well as the continuing COVID-19 pandemic, will need to be monitored closely as the auto dealer industry hopes to move out of this ongoing chip shortage.
Forecast
With the chip shortage still in full effect, inventory constraints are going to continue to be an issue through the remainder of the summer.  Thomas King, president of the data and analytics division at J.D. Power notes:
"Looking forward to June, with sales continuing to outpace production in aggregate, falling inventory levels may start to put pressure on the current sales pace. However, based on what we have seen so far, retailers may continue to adapt by turning inventory more quickly to maintain sales velocity. However, regardless of inventory position, manufacturers and retailers will continue to benefit from strong consumer demand and a higher profit per unit sold."
Through June and the rest of the year, ability to turnover what inventory auto dealers are able to get their hands on will be critical to maintaining profitability levels. Consumer's willingness to go the extra mile (literally) in order to secure a new car is a positive tailwind, and a continuation of this trend will be beneficial for dealerships. However, the chip shortage continues to need to be monitored closely, though expectations of it easing and government assistance are providing some optimism to the situation.
Conclusion
If you would like to know more about how these trends are affecting the value of your auto dealership, feel free to contact any members of the Mercer Capital auto team. We hope that everyone is continuing to stay safe and healthy.