Middle Men: Family-Owned Auto Dealerships
In this 5-minute video, originally recorded in May 2022 for Mercer Capital's Family Business On-Demand Resource Center, Scott Womack addresses the topic of auto dealership valuation. He explains the economic and financial challenges that have affected the auto dealer industry and what drives the ultimate value of your dealership.
---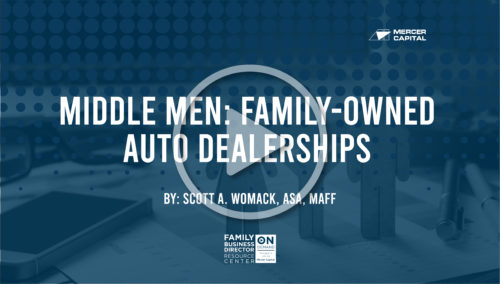 Click here to watch the video
(you will be redirected to www.familybusinessondemand.com)
---
In addition to the video, we have included additional resources on this topic that might be helpful to you.
The Family Business On Demand Resource Center is a one-stop shop for enterprising families and their advisors facing the financial challenges that are common to family businesses. While not specific to the oil and gas industry, there you'll find a curated and organized diverse collection of resources from Mercer Capital's family business professionals, including more 5-minute videos, articles, whitepapers, books, and research studies.
The perspectives offered on the Family Business On Demand Resource Center are rooted in our experiences at Mercer Capital, working with hundreds of enterprising families in thousands of engagements over the past forty years. Our main focus is on the financial challenges faced by family businesses. There's nothing else like it, and we hope you will visit the site. We plan to feature additional videos from auto dealer industry team in the near future.