What a Steady Oil and Gas Industry in 2017 Points to in 2018
---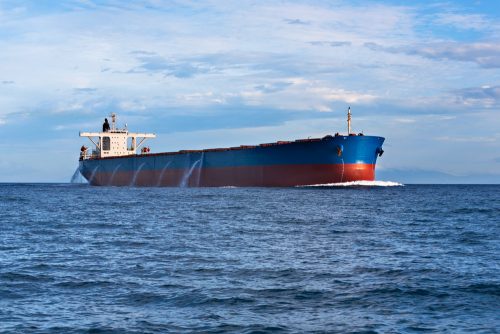 "Steady as she goes."
At least that is what I think captains of most vessels say…except maybe a car. For captains navigating the 2018 oil and gas industry, a repeat of 2017's relatively calm waters is vocal wish.
2017 in Review
Oil prices closed the year reaching $60 per barrel, WTI futures prices returned to backwardation, and oil price volatility was relatively calm as the price moved within an $18 band all year ($42 – $60). Natural gas, on the other hand, continued its woes of declining prices, transportation constraints, and oversupply. Hope remains that increased natural gas exports will change the narrative, but that is still undetermined. For the oil industry, a repeat of 2017 would be a welcomed event, making the theme for the year ahead – "Steady as she goes." Before projecting trends of 2018, let's review 2017, starting with oil and gas commodity prices.
Oil and Gas Commodity Prices
If bottom needs to be found before rebound can happen, 2015 and 2016 provided a solid foundation for the oil and gas price gains in 2017. This past year brought about the feeling of stability for oil prices and continued woes for natural gas. For the year, WTI increased 11% and Henry Hub natural gas decreased 20%. This is the second consecutive year-over-year increase for WTI.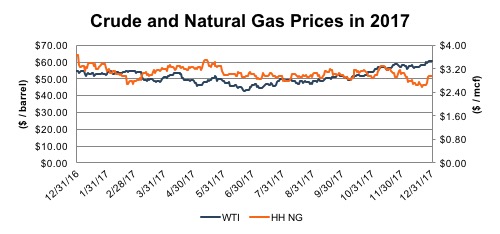 Additional Perspective
In a commodity-focused industry, commodity prices set the overall framework. With last year's oil and gas prices as the framework, here are a few posts that provide additional color to the 2017 oil and gas industry.
Outlook for 2018
The positive momentum for the oil industry should continue as long as prices hold steady or increase. With the futures curve currently in backwardation and the backwardation spread getting stronger, the upward trend in price should continue. Other resource plays, like the Bakken, Eagle Ford, and Canadian Oil Sands will become more attractive and active as the price of oil inches higher. Natural gas, on the other hand, continues to sort out its oversupply and distribution constraints which have continued to push prices down. Reorganization, consolidation, and operational efficiency in the Marcellus and Utica players are anticipated going forward. This focus will continue until gas price relief is a reality, at which point the companies still operating will be well positioned to thrive.
Mercer Capital has significant experience valuing assets and companies in the energy industry, primarily oil and gas, bio fuels and other minerals.  Our oil and gas valuations have been reviewed and relied on by buyers and sellers and Big 4 Auditors. These oil and gas related valuations have been utilized to support valuations for IRS Estate and Gift Tax, GAAP accounting, and litigation purposes. We have performed oil and gas valuations and associated oil and gas reserves domestically throughout the United States and in foreign countries. Contact a Mercer Capital professional today to discuss your valuation needs in confidence.