Bakken M&A
Increased Transaction Volume Continues into 2022
Deal flow in the Bakken has been steady over the last twelve months, with 14 transactions announced since October 2021, up from nine deals during the same period in 2020-2021.  Devon Energy's $5.6 billion acquisition of assets from WPX Energy was the only deal in the twelve months prior to September 2021 that exceeded $1.0 billion in value.  In comparison, five deals exceeded $1.0 billion during the twelve-month time period ended September 2022, led by the Oasis Petroleum – Whiting Petroleum merger, at $6.0 billion.
Recent Transactions In the Bakken
A table detailing transaction activity in the Bakken over the last twelve months is shown below.  Despite an increase in the number of deals, relative to 2020 – 2021, the median deal size decreased by roughly $215 million, with five deals valued at less than $200 million. The median value per acre and value per Boepd, however, increased over 300% and 100%, respectively.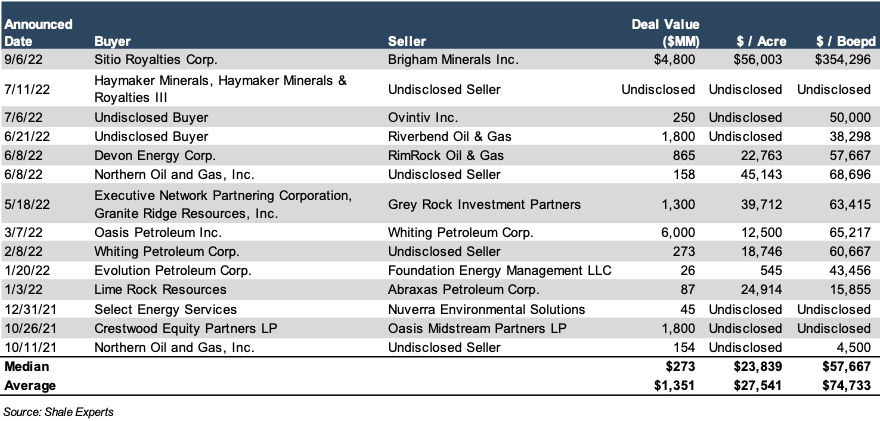 Oasis and Whiting Combine In a $6.0 Billion Merger
On March 7, 2022, Oasis Petroleum and Whiting Petroleum announced a $6.0 billion merger, renaming the combined entity Chord Energy. The deal closed on July 5, 2022. Under the terms of the agreement, Whiting shareholders received 0.5774 shares of Oasis common stock and $6.25 in cash for each share of Whiting common stock owned. Oasis shareholders received a special dividend of $15.00 per share. At closing, Whiting and Oasis shareholders owned approximately 53% and 47%, respectively, of the combined entity on a fully diluted basis. Transaction highlights include:
Production (2022 Q1) – 92,000 Boepd
Acreage – 480,000 net acres in Montana and North Dakota
The deal creates the Bakken's second-largest producer and the largest pure-play E&P
A pro forma table of the transaction is shown below: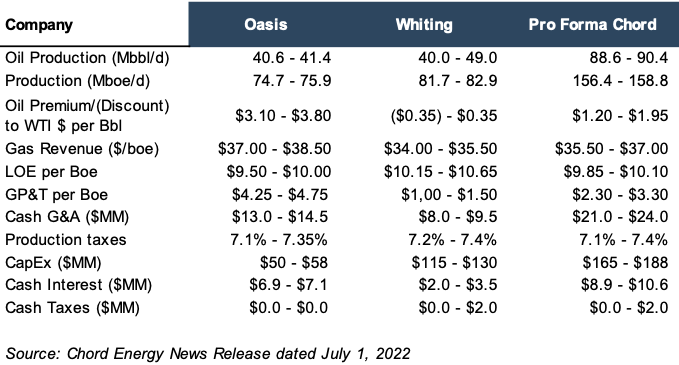 Devon Energy – RimRock Oil and Gas Deal
The next largest deal exclusive to the Bakken is Devon Energy's $865 million acquisition of a working interest and related assets from RimRock Oil and Gas (seven of the 14 deals analyzed included acreage or midstream assets in areas in addition to the Bakken, including the $4.8 billion Sitio Royalties – Brigham Minerals transaction and the $1.8 billion Crestwood Equity Partners – Oasis Midstream Partners transaction).  The deal was announced on June 8, 2022 and closed on July 21, 2022. Deal highlights include:
38,000 net acres in Dunn County, North Dakota
15,000 Boep/d as of Q1 2022 (78% oil)
88% working interest
Over 100 drilling locations
Characterized by Devon Energy as a bolt-on acquisition, the 38,000 net acres are contiguous to Devon Energy's existing position in the Bakken. Production from the acquired assets is expected to increase to approximately 20,000 Boep/d over the next twelve months.
RimRock Oil and Gas is backed by private equity sponsor Warburg Pincus, which has held a stake in RimRock Oil and Gas since 2016.
Conclusion
M&A transaction activity in the Bakken increased through year-to-date 2022 relative to the same time period in 2021 and consisted of a handful of large deals and numerous small deals.  Deal activity in the Bakken will be important to monitor as companies continue to find significant opportunities to grow their Bakken positions.
We have assisted many clients with various valuation needs in the upstream oil and gas industry in North America and around the world.  In addition to our corporate valuation services, Mercer Capital provides investment banking and transaction advisory services to a broad range of public and private companies and financial institutions.  We have relevant experience working with companies in the oil and gas space and can leverage our historical valuation and investment banking experience to help you navigate a critical transaction, providing timely, accurate and reliable results.  Contact a Mercer Capital professional to discuss your needs in confidence.