Bakken M&A
Transaction Volume and Deal Size Rebound in 2021
Over the last year, deal activity in the Bakken has been steadily increasing after a challenging 2020.  Eight of the nine deals referenced below occurred in the last eight months as the price environment has turned more favorable.  As the industry seems optimistic that the worst of COVID-19 is behind us, deal activity may continue to increase into next year, but there is always hesitation, especially with the Delta variant on the rise.
Recent Transactions in the Bakken
A table detailing E&P transaction activity in the Bakken over the last twelve months is shown below.  Relative to 2019-2020, deal count was unchanged, but median deal size increased by roughly $480 million, which was lead by the $5.6 billion Devon-WPX transaction.

Click here to expand the chart above
Oasis Adds Strategic Acreage in Core Area
On May 3, 2021, Oasis Petroleum announced that it entered a definitive agreement to acquire select Williston Basin assets from Diamondback Energy in a cash transaction valued at approximately $745 million.  The effective date of the acquisition will be April 1, 2021, and the deal has yet to officially close.  The purchase consideration is expected to be financed by cash, revolver borrowings, and a bridge loan.  Transaction highlights include:
Production (2021 Q1) – 27 Mboe/d
Acreage – 95,000 net acres in Dunn, McLean, McKenzie counties, ND
200 drilling locations
Proved Reserves – 80.2 mmboe
A pro forma table of the transaction is shown below: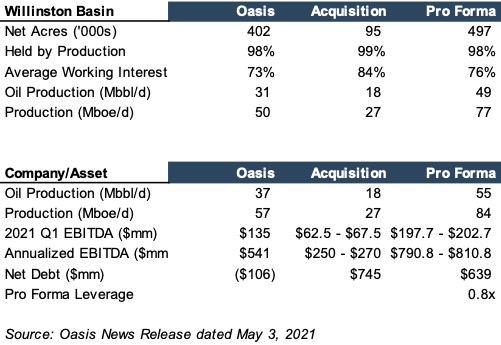 Diamondback has built a reputation of being focused on the Permian Basin, but in late 2020, the company acquired QEP Resources which gave them exposure to Williston acreage.  It took them roughly six months to sell their Bakken acreage package to Oasis, returning them to their pure-play Permian status.
Equinor Lets Go of Its Bakken Position
On February 10, 2021, Equinor announced that it was selling its Bakken asset portfolio to Grayson Mill Energy for $900 million.  Grayson Mill Energy is a Houston-based exploration and production company backed by Encap Investments, a private equity firm that has raised over $38 billion of capital.  An exit from the Bakken, which Equinor entered in 2011 by acquiring Brigham Exploration Company for $4.7 billion, follows the sale of its operated assets in the Eagle Ford for $325 million to Repsol in November 2019.  The deal closed on April 27, 2021 and included the following:
242,000 net acres, and associated midstream assets
48,000 Boep/d as of Q4 2020
In parallel with the transaction, Equinor Marketing and Trading entered into a term purchase agreement for crude offtake with Grayson Mill Energy.  Al Cook, Equinor's executive vice president of Development & Production, referenced that the company is focused on improving the profitability of its international portfolio.
Conclusion
M&A transaction activity in the Bakken was steady through year-to-date 2021 and consisted of notable strategic acquisitions and exits in the basin.  Deal activity in the Bakken will be important to monitor as companies shift their focus to other basins and are forced to prioritize other initiatives.
We have assisted many clients with various valuation needs in the upstream oil and gas industry in North America and around the world.  In addition to our corporate valuation services, Mercer Capital provides investment banking and transaction advisory services to a broad range of public and private companies and financial institutions.  We have relevant experience working with companies in the oil and gas space and can leverage our historical valuation and investment banking experience to help you navigate a critical transaction, providing timely, accurate and reliable results.  Contact a Mercer Capital professional to discuss your needs in confidence.