The 2014 rendition of the AICPA's FVS (Forensic and Valuation Services) conference was held earlier this month in New Orleans. The conference featured a number of presentations pertaining to fair value.
Tony Aaron (E&Y) and Mark Zyla (Acuitas) presented a three-hour workshop that provided a great overview of fair value and the various contexts in which it must be measured.
Neal Beaton (Alvarez & Marsal) simplified valuations involving complex capital structures.
Mercer Capital's own Travis Harms tag-teamed with Ron DiMattia (Corporate Value Partners) on a presentation entitled "Digging Deeper: Exploring the Nuances of Discounted Cash Flow Analysis." In the presentation, Ron and Travis addressed the importance of conforming the projection model with the subject company's "story," integrating the various inputs and assumptions, and testing sensitivities. The session also addressed some of the most-common biases that afflict financial forecasts.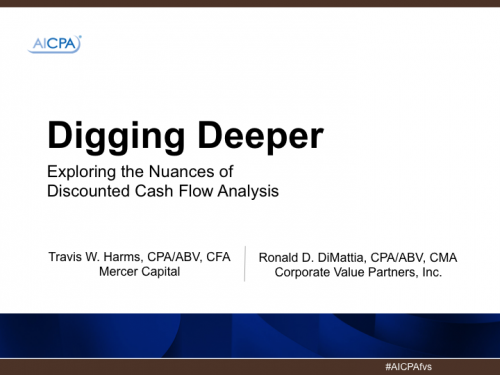 Related Links
---
Mercer Capital monitors the latest financial reporting news relevant to CFOs and financial managers. The Financial Reporting Blog is updated weekly. Follow us on Twitter at @MercerFairValue.