Eagle Ford M&A
Transaction Activity Picks Over the Past 4 Quarters
Deal activity in the Eagle Ford has increased over the past 12 months, with 13 deals closed compared to 10 that closed in the prior year. What is fueling Eagle Ford's M&A momentum? Significant volumes of wet gas, NGLs, and rich condensate combined with the proximity to the Port of Corpus Christi. The port is the home of a processing and export market that hit an all-time high for crude oil exports in December 2022, exceeding 70 million barrels in a month for the first time in its history. The Port of Corpus Christi accounted for roughly 60% of all U.S. crude oil exports for all of 2022, according to research firm RBN Energy.
Recent Transactions in the Eagle Ford
A table detailing E&P transaction activity in the Eagle Ford over the last 12 months is shown below. The median deal value in the past four quarters ($1.3 billion) was approximately $930 million, higher than the median deal value from Q2 2021 to Q1 2022. The average deal value over the past 12 months ($1.1 billion) was nearly twice the average ($573 million) over the prior year. Acreage positions transacted over the past year were flat, with a median size of 40,500 net acres compared to 45,000 net acres in the prior 12 months. The average deal acreage was nearly 88,000 net acres this past year, compared to an average of 80,000 in the prior 12 months.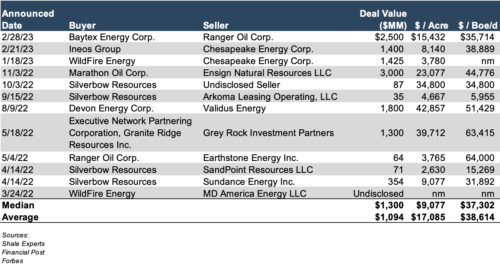 Baytex Energy Purchases Ranger Oil; First All-Public Upstream Deal in a Year
On February 28, 2023, Canadian energy company Baytex Energy Corp. ("Baytex") announced the acquisition of Eagle Ford pure play Ranger Oil Corp. ("Ranger") for an aggregate purchase price of approximately $2.5 billion. Ranger shareholders will receive $13.31 in cash and 7.49 Baytex shares of stock per share of Ranger stock. Ranger's stock closed at $41.31 per share the day before the deal was announced. The deal prices Ranger stock at approximately $44.36 per share, or an approximate 7.4% premium.
This deal is the first between publics in the E&P oil and gas sector since Oasis Petroleum and Whiting Petroleum merged in a $6.0 billion deal about a year ago.
Baytex picks up the following in the deal:
162,000 net acres, highly concentrated in Gonzales, Lavaca, Fayette, and Dewitt counties and on-trend with Baytex's non-operated position in the Karnes Trough
Production of 67-70 Mboe/d (working interest) that is 96% operated (72% light oil, 15% NGLs, and 13% natural gas)
174 MMboe of proved reserves, consisting of 120 MMbbls of tight oil, 27 MMbbls of NGLs, and 162 Bcf of shale gas (working interest before the deduction of royalties); and
258 MMboe of proved plus probable reserves, consisting of 180 MMbbls of tight oil, 39 MMbbls of NGLs, and 232 Bcf of shale gas (working interest before the deduction of royalties)
Baytex CEO Eric T. Greager said of the Ranger acquisition:
"The Ranger acquisition is strategic. We are acquiring a strong operating capability in the Eagle Ford, on-trend with our non-operated position in the Karnes Trough and driving meaningful per-share accretion on all metrics. The transaction more than doubles our EBITDA and nearly doubles our free cash flow. The Ranger inventory immediately competes for capital in our portfolio and brings 12 to 15 years of quality oil-weighted drilling opportunities. We are building quality scale and a more durable business with a lower break-even WTI price."
Marathon Leads the Race for Largest Eagle Ford Acquisition in Last 12 Months
Marathon Oil Corporation ("Marathon") announced its acquisition of the Eagle Ford assets of Ensign Natural Resources ("Ensign") for total cash consideration of $3.0 billion on November 2, 2022.
Using the 2023 forward curve pricing of $81/WTI, $5.10/HH, and $26.50/NGL as of October 27, 2022, and a 15% cash tax rate, the transaction is expected to drive a 17% increase to Marathon's 2023 operating cash flow and a 15% increase to free cash flow. As the transaction is accretive to Marathon's cash flow profile, it will increase 2023 shareholder distribution capacity by approximately 17%, consistent with the company's return of capital framework driven by operating cash flow.
The 130,000 net acres acquired are adjacent to Marathon's existing Eagle Ford position and include:
97% working interest located primarily in the prolific condensate and wet gas phase windows of the play
More than 600 undrilled locations, representing an inventory life greater than 15 years
700 existing wells
Marathon Oil expects to fund the transaction with a combination of cash on hand, borrowings on the company's revolving credit facility, and issuance of new prepayable debt. The Company does not expect the transaction to meaningfully affect its leverage profile.
Marathon Chairman, President, and CEO Lee Tilman noted:
"This acquisition in the core of the Eagle Ford satisfies every element of our exacting acquisition criteria, uniquely striking the right balance between immediate cash flow accretion and future development opportunity," said chairman, president, and CEO Lee Tillman. "The transaction is immediately accretive to our key financial metrics; it will drive higher distributions to our shareholders consistent with our operating cash flow driven Return of Capital Framework; it's accretive to our inventory life with high rate-of-return locations that immediately compete for capital; and it offers compelling industrial logic by nearly doubling our position in a Basin where we have a tremendous track record of execution excellence. Importantly, we expect to execute this transaction while maintaining our investment grade balance sheet and while still delivering on our aggressive return of capital objectives in 2022 and beyond."
Conclusion
M&A activity in the Eagle Ford has picked up over the past year in terms of both deal count and the amount of acreage involved (1.1 million acres in the last 12 months vs. 720,000 acres in the same period one year prior). Of the 13 deals noted over the past year, nine were property/asset acquisitions, while four were corporate transactions. Interestingly, both Greager and Tilman indicated that the Eagle Ford assets acquired will immediately compete for capital in their respective companies' portfolios. Additionally, in its valuation of the deal, Marathon did not consider that most of the 700 existing wells acquired were developed before 2015 with early-generation completion designs and will most likely need to be redeveloped. Clearly, Baytex and Marathon see the purchased assets as providing a high return on investment, even if additional capital must first be allocated.
Mercer Capital has assisted many clients with various valuation needs in the upstream oil and gas industry in North America and around the world. In addition to corporate valuation services, Mercer Capital provides investment banking and transaction advisory services to a broad range of public and private companies and financial institutions. We have relevant experience working with companies in the oil and gas space and can leverage our historical valuation and investment banking experience to help you navigate a critical transaction, providing timely, accurate, and reliable results. Contact a Mercer Capital professional to discuss your needs in confidence.